TruMan Holdings unveils "Tripod leg extension" strategy
24.05.2017
TruMan Holdings will focus on its main business areas, namely textile, seafood, and real estate, in the 2017-2022 period, aiming to seize top market share in each product segment.
In the middle of May 2017, TruMan Holdings' leadership and senior advisors, board members, senior executives, and the senior officers of its member companies met in the central city of Danang and talked about the group's development strategy for the period of 2017-2022.
At the meeting, in addition to celebrating the group's achievements in the past, the leadership and staff of TruMan pointed out the shortcomings that can slow down their development.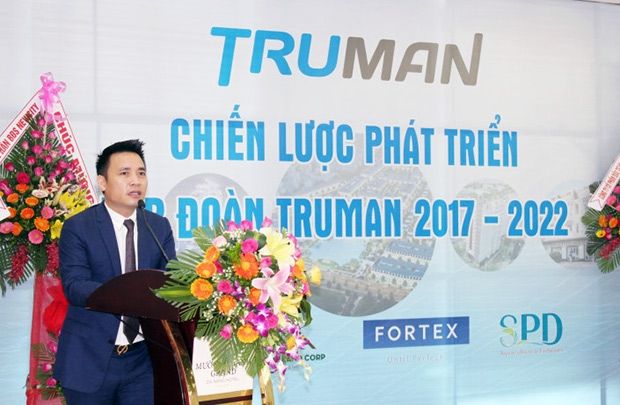 TruMan Holdings chairman Le Manh Thuong gave a speech on the group's development strategy for 2017-2022
"If we do not praise our achievements, we cannot take pride in ourselves. On the other hand, we must recognise the limitations and inadequacies so that we can avoid being mired down in them," said Le Manh Thuong, chairman and CEO of TruMan Holdings.
"I appreciate the sincere comments and serious critiques from all the staff of TruMan. I can say with confidence that having all of you on board, I can do everything, even things that I previously doubted I could do," he added.
Keeping up the startup spirit
According to Thuong, the startup spirit is TruMan's greatest value. Therefore, TruMan has been always striving to attract and welcome all candidates with the desire to work in a dynamic and creative environment where all individuals can maximise their performance. "We are continuously working to ensure a professional and modern working environment that is as productive and rewarding as possible," Thuong said.
TruMan pays special attention to human resources development to provide employees with expertise through on-the-job training and cooperating with reputable universities, such as Ho Chi Minh City University of Technology and Ho Chi Minh City University of Industry. These training activities not only aim to improve employee productivity, but also raise each member to become a worthy representative of TruMan under any circumstances.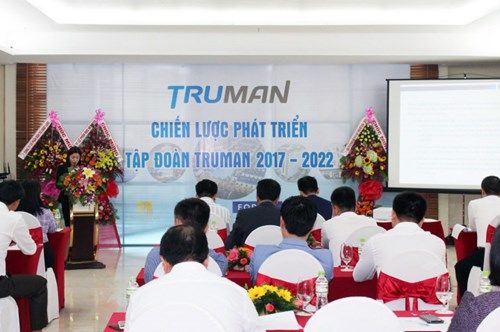 Senior executives of member companies at work
"Tripod leg extension" strategy
One of the three economic resolutions issued by the Fifth Plenum of the 12th Communist Party of Vietnam's Central Committee emphasised the importance of the private sector in the country's economic development.
"The private economy is an important engine for economic development. Private enterprises are encouraged to innovate management methods and take part in corporate governance to improve operational efficiency, as well as promote the competitiveness of goods and services, thus building brand loyalty," the resolution read.
Taking advantage of this opportunity and TruMan's competitive advantages, the company has built a "tripod leg extension" strategy for the period of 2017-2022. The member companies will continue to seek M&A targets and invest selectively to create closed-loop value chains.
TruMan will particularly focus on three main areas. First, the company will develop the textile value chain. From the strengths of producing high-quality cotton yarn, it will expand its towel weaving, fabric weaving, dyeing finishing, apparel, and fashion operations.
Second, TruMan will continue to develop seafood processing and export activities by investing in aquaculture, cold storage, and feed mills.
Third, it will continue to promote investment and development of available real estate projects in Thai Binh, Danang, Binh Thuan, and Ho Chi Minh City. Additionally, it will also step up efforts in resort, civil construction, and industrial zone projects.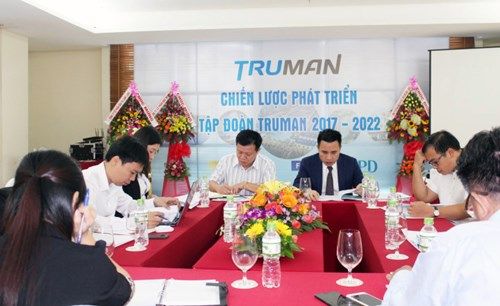 Effective, sustainable growth
The meeting agreed and decided some key points for the strategy of sustainable and effective development, thereby bringing benefits to shareholders and partners.
In terms of capital, by 2022 the company will increase its chartered capital to VND8 trillion ($350 million), corresponding to an annual average increase of 20 per cent (the current chartered capital is VND2.8 trillion). The capital will be mobilised through capital contributions from shareholders, bank loans, the stock market, as well as domestic and international bonds.
Regarding the brand name, the company will raise the prestige of the TruMan brand and associate it with professionalism, giving them an advanced and modern image, green growth and environmental friendliness. Moreover, the company will support social charitable activities to raise its credit with the community.
As to human resources, the company will focus on developing a strong workforce with a culture of discipline, creativity, progress, and fairness. It will make itself a brand that cares for employees' lives.
As to products and market share, the company will strive to become a market leader in each major product segment, not only domestically but also internationally.
With its current solid foundations, the focus points of the development strategy for the period of 2017-2022 will provide TruMan with a guideline to move towards becoming a large private sector economic group in Vietnam and the region, which is managed transparently and effectively to bring the highest value to its shareholders.
TruMan is a private sector economic group specialising in producing, investing, and trading products and services associated with the essential needs of life: food–clothing–living. The group's current capital is VND2.8 trillion. It has more than 2,500 employees and its EPS is about VND2,000 (9 US cent) per share.
TruMan Holdings currently has three member companies:
(1) Duc Quan Investment and Development Joint Stock Company (Fortex, HSX: FTM) that has three factories in the northern province of Thai Binh and is one of the top three largest producers and exporters of natural cotton yarn in Vietnam;
(2) Danang Seaproducts Import-Export JSC ((Sea Danang, Upcom: SPD), one of the top 10 seafood processing factories with over 40 years of experience; and
(3) Light Land Holdings, which currently manages and develops real estate projects, including New City Thai Binh, New City Danang, and 55 Tran Nhat Duat in Ho Chi Minh City among others.
In 2016, the group sponsored the "Children and Family Expo", a meaningful playground providing opportunities for parents and their children to become closer. In March 2017, the group also visited and gave presents to children at Huong Duong Shelter for Homeless Children with the desire to inspire and help them overcome their difficult circumstances.
DUNG TRANG
Đăng ngày: 24.05.2017